Imagine a party that involves the beach, the full moon, and great food, music, and company. Sounds tempting and right out of a dream, right? Well, the good news is it is not a dream. Every month or so, Thailand organises the full moon party that involves thousands of people. With a selection of different types of music and fire eaters and jugglers doing their trick, the full moon party beats every other party. Drink and eat, surf and dance, the possibilities of fun are endless.
How It Began
The full moon party tradition developed in the late 1980s when a birthday party on the beach exploded into a wild party. This party repeated itself over the years with large and larger crowds and gave rise to what we know as the full moon party today. Some visionaries they were! The full moon party is originally celebrated every full moon night on Koh Pha Ngan. However, commercialisation has given birth to half-moon parties, quarter-moon parties, black-moon parties, so on and so forth.
Getting There
The closest islands to Koh Pha Ngan are Koh Samui and Koh Tao. From these islands, the full moon party is just a ferry ride away. You can also avail a flight to a nearby island or a boat from the capital city of Bangkok.
Finding Rooms
Do not book in advance! It is the biggest no-no when it comes to the full moon party as the rooms you will find are going to be super expensive. Many will also have a huge minimum stay period attached to them. You can easily find accommodation on the spot if you reach a little early. You usually have a lot of options from shared dorms to luxurious bungalows. The budget ranges from 300 bhats to 4000 bhats. You can also book a place at a different island nearby and take a ferry to Koh Pha Ngan to party.
Dress Code
Neons all the way. To make the most of your full moon party attire, you have to dress up in neon! Also, do not shy away from slathering yourself in neon body paint!
Food and Drinks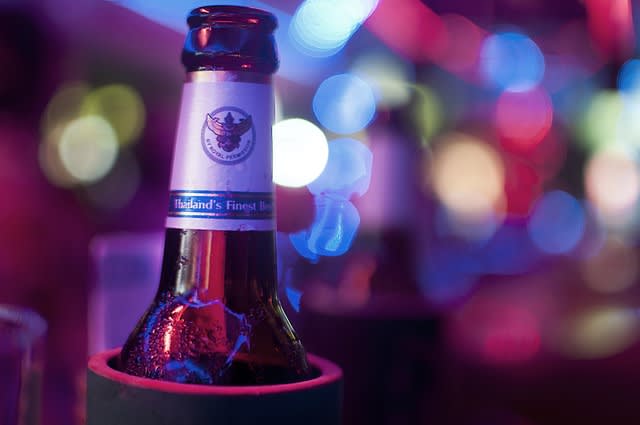 Food and drinks can be somewhat expensive here, but they are a highlight of the full moon party. Buying straight from the beach is a cheaper option. Go for beers as they are less expensive. While you are at the full moon party, you cannot miss out on the Bucket! The main ingredients that go into the bucket are Coke, Thai Red Bull and 375 ml of pure alcohol. It is an epic drink that you should ideally share with your group.
Pro Tips
Despite being illegal in Thailand, the full moon party has a huge supply of drugs. Be careful of them as you can face possible prison time for doing drugs.
The jump rope on fire is a crazy party game that goes on during the full moon party. You will probably want to avoid it for the simple reason that combining drunk person, which you probably will be, and fire does not end very well.
 Okay! You have to share the Bucket and not overdo it! For obvious reasons.
Stay away from the ocean if you are too drunk or do not know swimming. Nobody will notice you drowning or be able to save you if it comes to that.
Carry proper footwear to party. Do not go barefoot!
Carry as little as possible to the party as theft is very, very common.
Staying hydrated helps to beat the hangover the next day.
With free-flowing spirits, the full moon party is a wild ride that continues until the wee hours of the morning. It has a reputation for being notorious with a huge supply of drugs, drinks, sex etc. However, get drunk on the fun once and you will return again and again. The full moon party in Thailand is a must attend for every hard-core party and music lover!