Rajasthan is the land of royalty and opulence, famous for its distinct as well as colorful culture. Therefore, it is no surprise that Rajasthan forts and palaces receive more than 45 million visitors each year, both domestic and international. If you are planning a visit to Rajasthan, here is our pick of Rajasthan forts that you must visit.
Amber Fort, Jaipur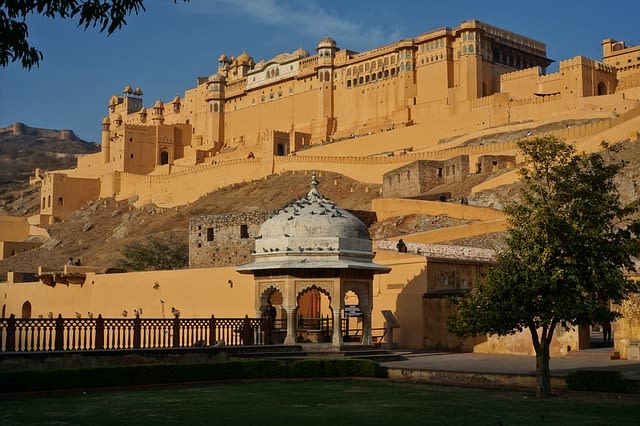 This 16th-century fort by Raja Man Singh is a beautiful juxtaposition of Mughal and Rajput styles of architecture using red sandstone and marble. The ornate and delicate artworks of the Diwan-e-Aam, Diwan-e-Khas, as well as Sheesh Mahal, are sure to steal your heart. Make sure to witness the picturesque views of the setting sun from this fort. Also, do not miss out on the spectacular lights and sound show!
Chittorgarh Fort, Chittorgarh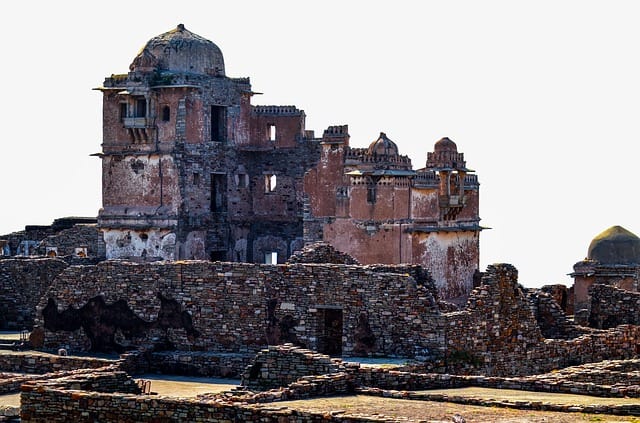 Chittorgarh is traditionally associated with courage and valour and this is among the most colossal Rajasthan forts you will lay your eyes on. This fort holds the history of Meera Bai, Rani Padmini, and Karnavati, the stories of whose sacrifice still pervades among the ravages of this fort. Vijay Stambha and Kirti Stambha mark the stories of the several sieges that this fort has come to face back in time. In other words, the history and the architecture combine to give you goosebumps.
Jaisalmer Fort, Jaisalmer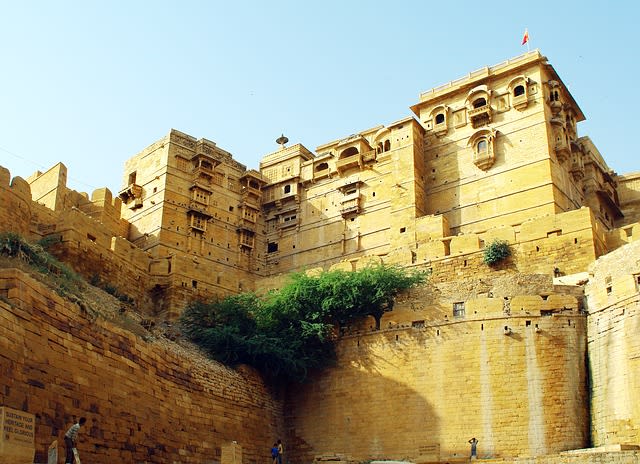 Also famous as the Golden Fort, Jaisalmer fort is famous for its yellow sandstone construction. The fort dates back to 12th century, but its remarkable beauty still attracts numerous visitors. This fort by Rawal Jaisal is also a part of UNESCO World Heritage Site. The three tired fort with ninety-nine bastions sure paints a mighty picture that stands in stark contrast to the honeyed colour of the walls.
Junagarh Fort, Bikaner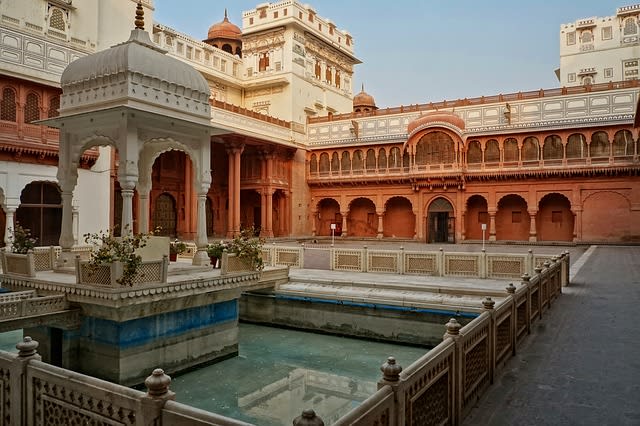 This iconic fort in Bikaner dates back to 1571 AD, during the rule of Maharaja Rao Bika. Although there have been several modifications over the time, this Rajasthan forts displays a blend of Mughal and Rajput styles of architecture. The intricate gateways Phool Mahal, the Karan Mahal, the Anup Mahal, as well as the Chandra Mahal form the major tourist attractions.
Kumbhalgarh Fort, Kumbhalgarh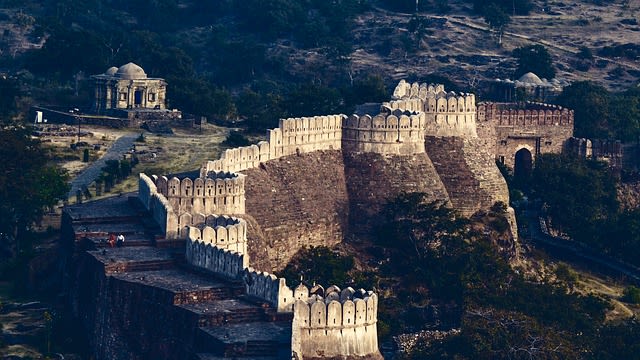 Maharana Rana Kumbha is the king credited with the construction of this 15th century Rajasthan fort atop the Aravali Hills. The 36 km long fortification is only second to the Great Wall of China in length. Within the seven gates that allow entrance to this marvelous beauty, there are as many as three hundred sixty points of attraction. These include mansions, collapsing shrines, temples, wells as well as gardens.
Lohagarh Fort, Bharatpur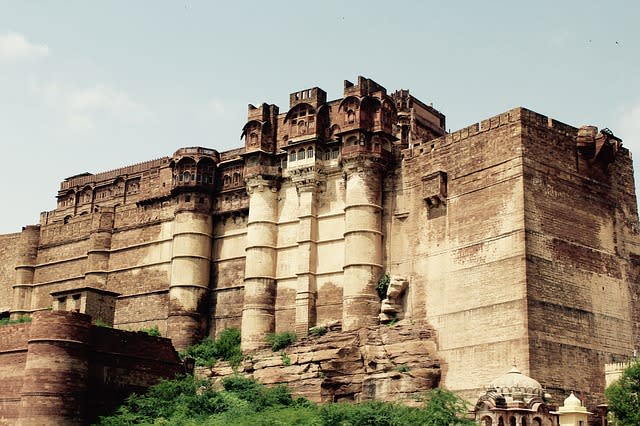 This 1732 AD fort by Maharaja Suraj Mal, literally translates to the Iron Fort. True to its name, this fort holds the distinction of being among the Rajasthan forts that the British could not bring under their control. The fort sits on a man-made island surrounded by the calm serenity of nature all around it. The iconic towers and gates of this fort as well as the artillery and artwork wow every tourist who steps foot in this fort.
Mehrangarh Fort, Jodhpur
Rao Jodha commissioned the building of this fort back in 1458 AD and since then this fort has been among the most controversial Rajasthan forts. With a history of murders, human sacrifice, divine curses and bloodied battles, the magnetic attraction around this fort are outstanding. This fort also features among the most well-preserved Rajasthan forts. Check out the brilliant and detailed works of architecture as well as furniture and clothing from the days of past glory.
Nahargarh Fort, Jaipur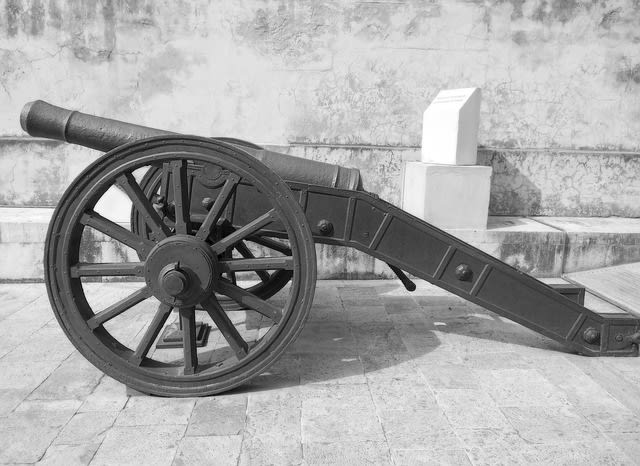 Nahargarh fort is a stunning example of the Rajasthan forts built for leisure. Close to the Hawa Mahal, this fort offers a panoramic view of the Pink City. Since construction in 1734 by Maharaja Sawai Jai Singh II, this fort has undergone several renovations. However, the charm of the fort is primarily due to the blend of Rajput, Mughal and European styles of architecture. You will not regret your trek to the top of this fort if you decide to take it on!
Taragarh Fort, Bundi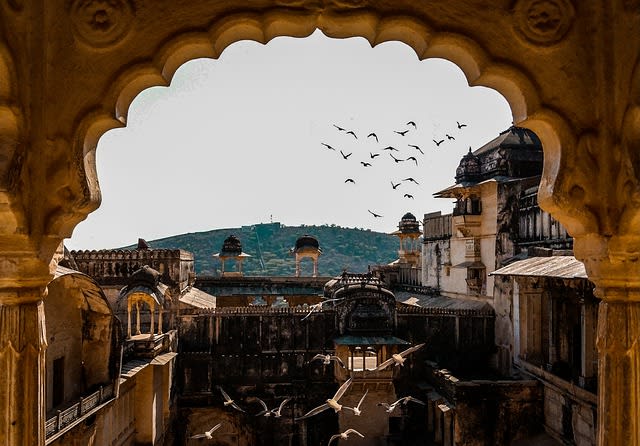 This magnificent fort in Bundi is definitely among our pick for the top Rajasthan forts. Although withered by time, the fort still manages to lure tourists through its magical charm. This 1354 AD Chauhan dynasty fort boasts of three grand gateways and a network of hidden tunnels. Do not miss the beautiful murals and lattice artworks.
Udaipur City Palace, Udaipur
On the banks of Lake Pichola sits, this fort in stunning white is a merger of European, Chinese and Medieval architecture. This is also one of the most visited Rajasthan forts. The towers, domes, and arches paint a picture you want to revisit again and again. This palace also boasts of beautiful works of glass, artistic tiles, furniture, automobiles etc. from the days gone by. The hanging gardens, cupolas, and balconies add to the allure of Udaipur City Palace.
That is a lot of history and culture to revisit. We bet your visit to our pick of the top Rajasthan forts will be a memorable experience. You can recollect this for years to come. If you did not already know that, a walk through history is fun, this is your chance to figure it out. Plus, Rajasthan has delightful offerings in terms of dance, music, good food and desert safari that you definitely cannot miss out on!